Motivational Speaker and Martial Arts Master Jamie Cashion Delivers Keynote at Joshua High School Convocation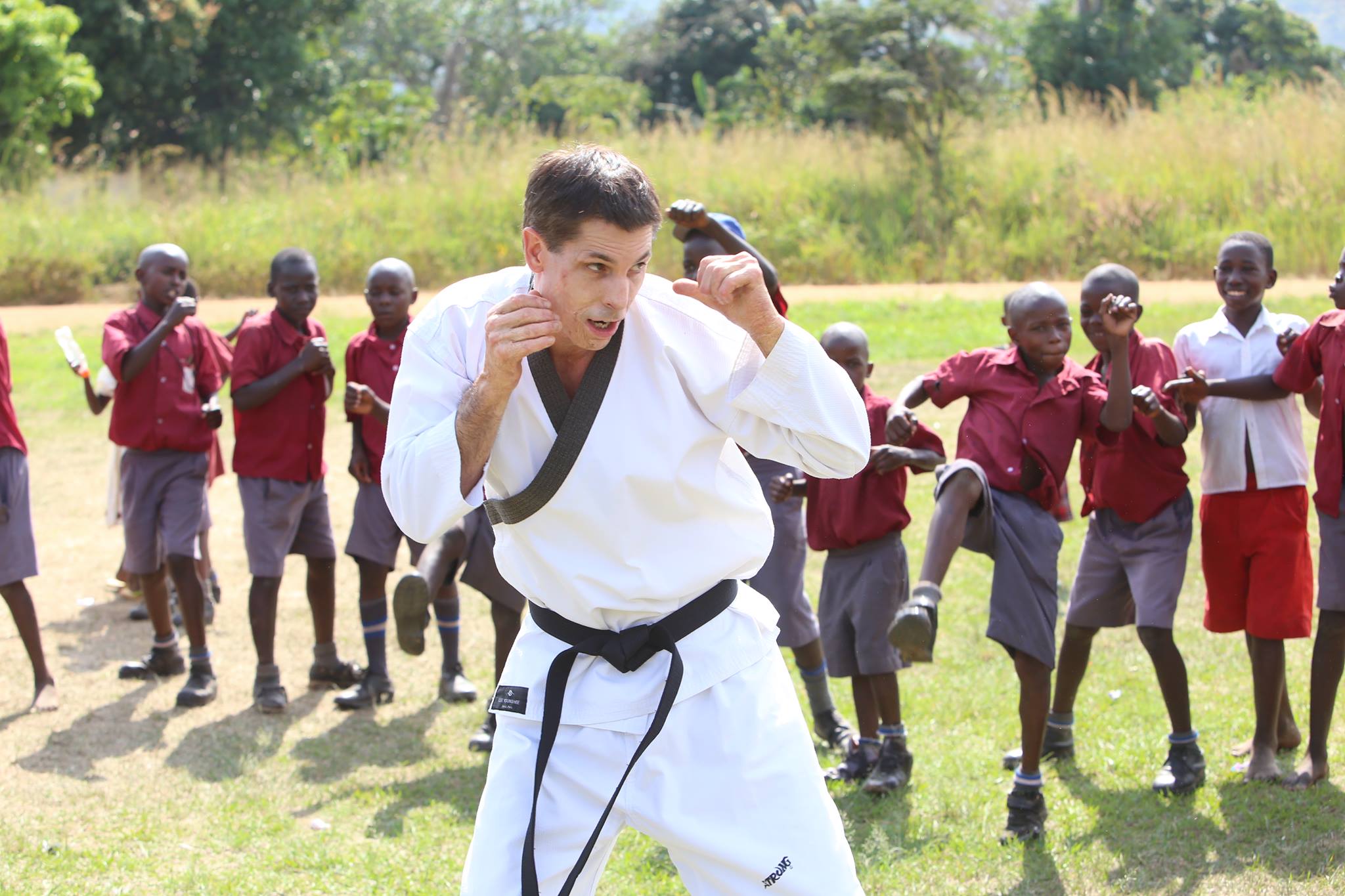 Fort Worth, TX (For Release) – Motivational speaker and seventh-degree Black Belt in American Karate Jamie Cashion delivered the keynote speech to the 2016 Joshua High School Teachers Convocation. A 1986 graduate of the school, Cashion shared with employees of the school the actions of the many people – teachers and others – who guided him in his growth and helped him to "climb my mountain."
"You never know when that certain person you're going to touch is going to be a world-changer some day." Jamie Cashion
A teacher of karate for nearly 30 years, Cashion has set a strong example in his life through both his martial arts success and his commitment to giving back to the community. After nearly losing his life as a volunteer firefighter at age 16, he has dedicated his life to helping others. In large part, this is because of the influence of the teachers in his life who saw what he was capable of. "No matter what obstacle is put in your life, you can overcome it," he told the assembly of teachers, administrators and support personnel. "As a teacher I know firsthand what an impact you can make."
Over his more than three decades in the martial arts, Senior Master Cashion has been recognized by many of the most prestigious organizations in the country, including the Masters Hall of Fame and the USA Martial Arts Hall of Fame. He has been honored in the Legends of Martial Arts Hall of Fame by Cynthia Rothrock, the California Martial Arts Museum Wall of Honor by Art Camacho, and the Action Martial Arts Magazine Hall of Honor by Allen Goldberg. Official Karate Magazine presented him with the Golden Shuto Award.
Most recently Master Cashion was accepted for inclusion in the 2016 Edition of WHO'S WHO in the Martial Arts Autobiography Publication and a recipient of the WHO'S WHO in the Martial Arts Black Belt Achievement Award from the American Martial Arts Alliance (AMAA). Master Cashion was nominated for the honor by seven-time PKA World Light Heavy Weight Karate Champion Jeff Smith.
"You never know when that certain person you're going to touch is going to be a world-changer some day," Cashion told the audience before reading a letter from a woman whose son he had spoken to during a karate tournament. The mother related how her son, age 11, had suffered from depression, but Cashion's encouragement had made a major difference in the boy's attitude. "You're the one that can plant a seed to make a difference in that child's life," he concluded.
To schedule an interview with American Karate Senior Master Jamie Cashion contact him via email or visit his website at www.jamiecashion.com.