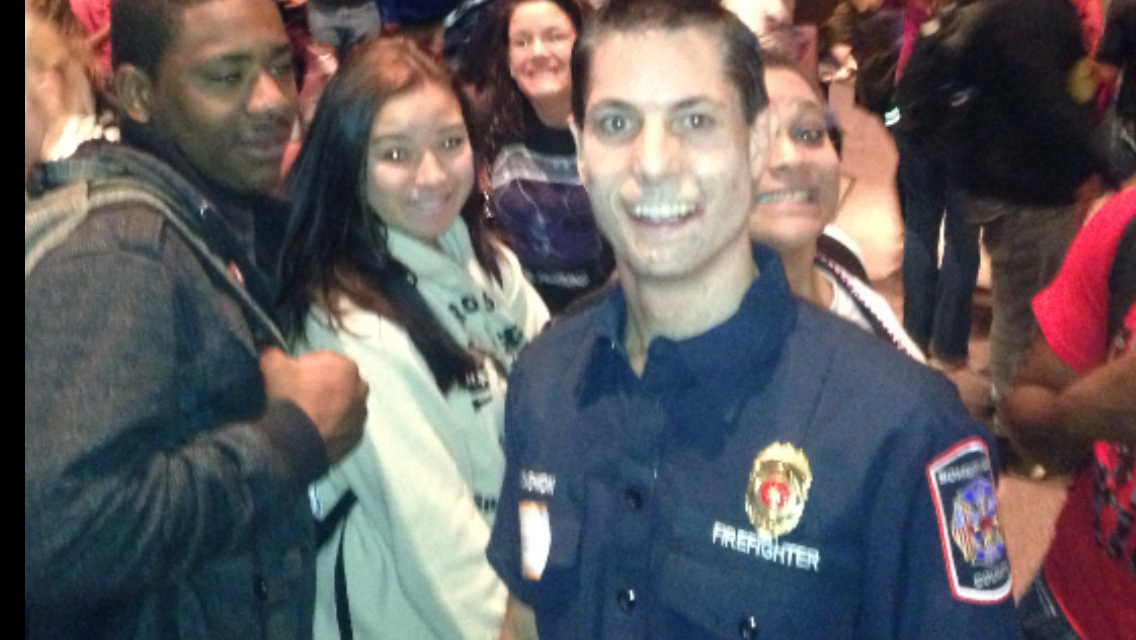 This past week has been one like I have never experienced in my entire life. I have faced fires, traumatic accidents, flooding, and more in my life, but none of that could possibly have prepared me for the devastation and heroism I witnessed working rescues in and around Houston following Hurricane Harvey. Unless you were in the Gulf Coast, you can not comprehend the true devastation that has resulted in 3 million people being displaced in the region. I feel very blessed that I could be a small part of the efforts to save lives.
It all started the weekend that Harvey hit Texas. I joined 22 other firefighters from the Somervell County Fire Department as we traveled to Ingleside and Port Aransas to aid in search and rescue operations. After two nights, I had an overwhelming calling to head to Houston, and I knew that I had to find a way to get there. I placed an emergency request on Facebook for a ride from Ingleside to Houston, and left it in God's hands. A friend of a friend contacted me and told me he had an employee who would take me to Houston, even during the Hurricane.
When we entered Houston, all of the highways were closed and Downtown Houston was under water. Because of this, we were having no luck getting me to my drop-off point, since we did not know the city. Then I saw a truck with two jet skis going the opposite way down I-45. I was able to stop the man, and I asked him what he was doing. He told me that he and his nine-year- old son had brought the jet skis out to ride on the interstate, thinking it would be fun – completely ignoring the massive currents caused by the flooding. I was able to talk him out of this, and instead urged him to direct us to Cypress via back roads. He graciously spent more than an hour getting me there.
I finally made it to the area of Cypress and Spring, Texas, on the northern outskirts of Houston. I had my driver pull into a gas station where I saw two young men in a truck with a small boat. I got out and asked them if they could help take me in their boat to the drop-off location where I was supposed to meet my team. Unfortunately, I was unable to make contact with my group, so I was put in touch with another team from Fort Worth. We worked the area and were involved in a number of rescues.
One of the more unusual rescues was of a man who was trapped on the second floor of his house. My partner Troy Moncrief and I were able to reach him with our boat, but he was so frightened that he insisted on jumping into our arms from his second story balcony. Have you ever tried to catch someone jumping from a balcony into your small boat, all the while fighting major currents from floodwaters? I can tell you, it was an experience!
During our rescue work, we witnessed the evacuation of a huge nursing home as well as many homes and apartment buildings. We also saw many people who decided to stay behind, even with their first floor flooded. Some were trapped on their second floor with small infants, and more than a few seemed to treat the situation almost like a Super Bowl party! Many argued that
they could survive for two weeks or more in a flooded home with no running water or electricity. Not to mention all of the raw sewage and waste in the floodwaters, some from a chemical plant that was exploding.
We worked rescue efforts from Sunday through Thursday, when I returned home thinking that my work was done. However, after a bare two hours home, I received an urgent dispatch that Orange, TX, was in imminent danger of flooding and needed rescuers. I put out an urgent request on Facebook, and many friends responded. Two hours later I was back on the road to meet up with a new boat on the way to a long adventure that took us to Orange, Vidor, Rose City (which, sadly, is no more), Beaumont, and Port Arthur – and hours and hours of driving through very high, flooded roads.
We met many amazing new friends from all over the USA who joined our group, and the local police and DPS were stellar in their efforts. They allowed me to provide an unobstructed path formy team (since my truck has light and sirens) to the urgent rescues. They even had us fall in behind their swift water rescue teams to bust through traffic jams. I must say, whoever developed the ZELLO app should receive an award for their work. That app was invaluable to us.
I want to acknowledge the efforts of the Cajun Navy. These people from Louisiana saved many lives, and they came heavily armed, which was an asset several times. They were very, very organized, and they are very serious about what they do. There were also groups made up of hundreds of dispatchers from around the country, who appeared to have it together more than the local authorities at times. They were actually dispatching rescue efforts for the National Guard, Police and Fire Departments, and thousands of volunteer rescuers. I have never witnessed such an outpouring of help from people willing to put their lives on the line for others. Over the week, I passed hundreds of civilians trying to get their boats in the water for rescues.
I have witnessed more near-death experiences than I want to remember, and I have seen destruction most people could never imagine. I know I am alive because of prayer, and prayer works! Unless you were in Houston or the Gulf Coast after Harvey, you cannot comprehend the true devastation of over three million people displaced. I believe this will be the most
catastrophic event to hit the USA. There will be a massive casualty rate, but the end result will be the coming together of people demonstrating love and compassion to rebuild and help in the healing process. I thank God for putting me in a position to help.